Our Clients....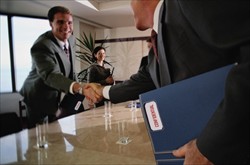 CONTACT US FIRST FOR ALL OF YOUR TAX AND ACCOUNTING NEEDS!
(732) 332-1700
The types of clients Steven Sewald & Co., CPAs & Consultants serve range in size and nature of businesses, as well as their questions, problems and accounting, tax and consulting needs.

What all clients have in common is a need for a professional accounting firm that will take the time to understand their business and offer solutions that reflect their particular type of operations.

We welcome the opportunity to meet with you to discuss how we might meet your needs and invite you to visit our office to discuss putting our services to the test. It is our specific expertise in servicing your personal and professional accounting and consulting needs and our dedication to developing an outstanding business relationship with our clients that has led us to become a successful CPA firms.

We realize that selecting a CPA firm is one of the most important decisions a business owner or individual will make. We invite you to evaluate our approach to your tax, accounting and consulting needs. We encourage you to allow us the opportunity to show you a refreshing change in dealing with professionals who realize the importance of a job well done.

ACCOUNTING AND AUDITING ? TAXATION? BUSINESS CONSULTING ? MANAGEMENT ADVISORY ? PAYROLL ? ADDITIONAL SERVICES
Steven Sewald & Company CPAs and Consultants
242 Route 79 N, Suite 3, Morganville, NJ 07751
Phone: 732-332-1700 Fax: 732-332-9011
e-mail: info@sewaldcpa.com